Who is Szanto?
A happy and energetic girl that lives in the forest that values her family deeply.
What made you interested in gaming?
Due to expensive modem fees and bad connection we always had to play offline games and the first game I played was "Mulle Meck bygger båtar". The RTS game Total annihilation were probably the first serious game I played. Later on my brother started playing CS 1.5 and me, my father and brother started playing together online. Initially I played a lot of WC3 mods in CS.16. The mod itself created more goals with the gaming itself. Also that my father played affected me me a lot but my friends at that time did not know that I was gaming.
Why e-Sport?
Mostly just because its fun, but one day introduced myself to a couple of others who thought that I were good and that later led to me joining Druidz. After my time in Druidz I continued to play just because I enjoy it. I've known Yeahnie and Mouse since 1.6 and they got me to play more seriously and I received a lot of positive feedback from the get go.
How did you feel when you got signed by Team Property?
It´s extra exciting for me since I know Aron and Pottish from earlier. The e-sport scene in Sweden is really big and we have received plenty of positive reactions since we joined.
Does it add more pressure to you to play for a slightly bigger organization like Team Property? Is it any way different from your earlier teams?
Since our time in Team Tactix we have always been moving to bigger organisations. Overall its all just positive feelings since we have the same ambition, to win championships.
What is your main role in the team and what would you say makes you a good CS:GO player?
My reflexes were good enough to make me a good AWP player back in 1.6 and I´m also quick enough to use the weapon offensively. In addition I play better under pressure and get more pumped up. If I at some point during a match start to feel insecure I move back and go for the more safe peaks. I often support our Ingame Leader as well.
What makes you really happy?
To drink coffee and take a walk with my dogs.

What is your opinion of the Swedish female CS:GO scene?
The amount of top tier players is very limited.
What could you do to improve it?
Just a larger amount of players would make the scene bigger on all levels.
What do you hope to achieve with Team Property during 2015?
Our main goal is to win tournaments, but we hope to reach as good placements as possible on offline events. For me personally, I aim to produce better results at this years Copenhagen Games, which last year we placed eighth place and at Gamegune fourth place.
What do you think is the most important to reach these goals?
If we continue to grow and increase our skill in this rate we will reach these goals. Our manager supports us a lot and Mouse previous experiences is a really good to have as well.
Coke or Pepsi? Coke
Pizza or entrecote? Entrecote
Göteborg or Stockholm? Göteborg
Travelling by air or train? By air
M4A4 or M4A1-S? M4A4
Winter or summer? Winter
What is your biggest wish right now?
To get a job within my field of education.
Szanto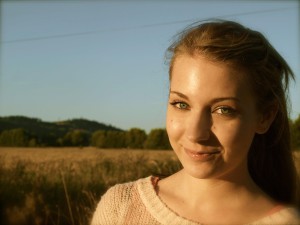 Name: Therese Szanto
Role in the team: AWP
Main occupation: Studying digital medias at Högskolan väst
Where do you live: Hålanda
Born: February 16th 1993
Family: Brother, sister
Earlier organizations: Overgaming, Team tactix and Atlantis e-sport club
Favorite games: CS:GO, Heartstone and World of Warcraft