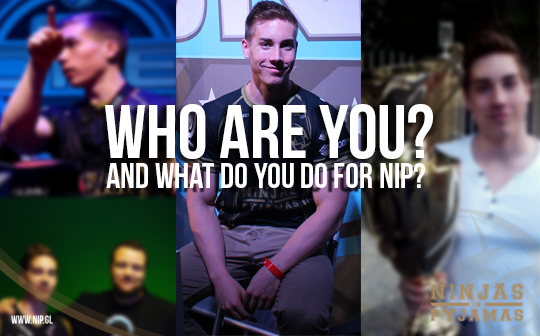 Many of you have asked if we couldn't do a "who are you?" article with our famous editor Kevin "Tweeday" Tweedale. We decided to sit down with Kevin to ask him a few questions regarding his first experience with editing and gaming.
How did you start with gaming? When did you start creating gaming movies?
My first PC experience was on a old Laptop where my friend introduced me to a cool new game that recently came out and that he had purchased – it was an online multiplayer game out of our age range: Counter-Strike:Source. It hooked me straight away and made me buy a PC that could barely run it, a monitor that was limited at 60hz and some crappy wireless keyboard, mouse and mousepad. We didn't even have internet back then at home so i kept on playing it offline with bots and i was often to be seen at my friend's place playing online with him the whole weekends through. Once i got internet at home, looking back, i played way too much. (I guess everyone can say that at a point when it comes to gaming haha)Anyhow it turned out that i actually got pretty decent at Counter-Strike:Source and I stuck with it due to my friends and myself creating a public team – got some people in our area to join us and we had loads of fun during our gaming hours. I guess myself was the most ambitious one in the team and played more than the older guys since I was still in school and such. Suddenly i discovered that there are leagues where you can compete in, I signed myself up – created teams, but never really had any memorable tournament wins.
I still managed to pull off some cool things in the game that i thought i'd have to capture and show off to my friends, after seeing the videos of Kodiak, then the Surreal Series of Lepi and some videos of impure and Naamiko i got myself a recording program and Sony Vegas. From there on out I tried things, watched a lot of tutorials, watched a lot of fragmovies and quite frankly stopped playing or doing anything else than Counter-Strike related things when i was at my PC. So i started creating gaming videos, that should be around 2007 that we are speaking of right now where it all kicked off.
Which movie was your first fragmovie ever?
My first fragvideo was one with a friend of mine, 4:3 resolution – nothing in it, just plain frags with music underlined. My first so called "fragmovie" was released in February 2009 called "World Below". It was a Counter-Strike:Source community fragmovie, ranging around 7 minutes in length if i can remember it right. People gave me some positive feedback and spured me on to do more – that then went to the point where i created my first video about a professional player (THAZable) as quite frankly people preferred watching legit content by professional players over community videos – as these community videos turned more into a well-put-together video with cheated and staged frags.
It might have been that I early got in touch with the people directing me towards doing content for legit and known players or something else – I am just glad I decided early already what content I would want to present the world. The community loved that video and it was my first time I really got recognition. From there on it got me at a point where I wanted to create a special video with LAN footage, which made me inquire a high-profile organisation in mTw – granting me the opportunity finally at the EPS Finals 2011 in Cologne. That is where my road started with my first international event being the follow-up event in Copenhagen – the Copenhagen Games 2012.
What are you doing besides of editing movies?
There is not much that I do asides, I would love to present colorful and beautiful stories but quite frankly creating videos is literally a full-time job at this stage. When I take some time off however it mostly results in spending time with my friends, watching a movie, going out with people to get some great food in various restaurants and working out.